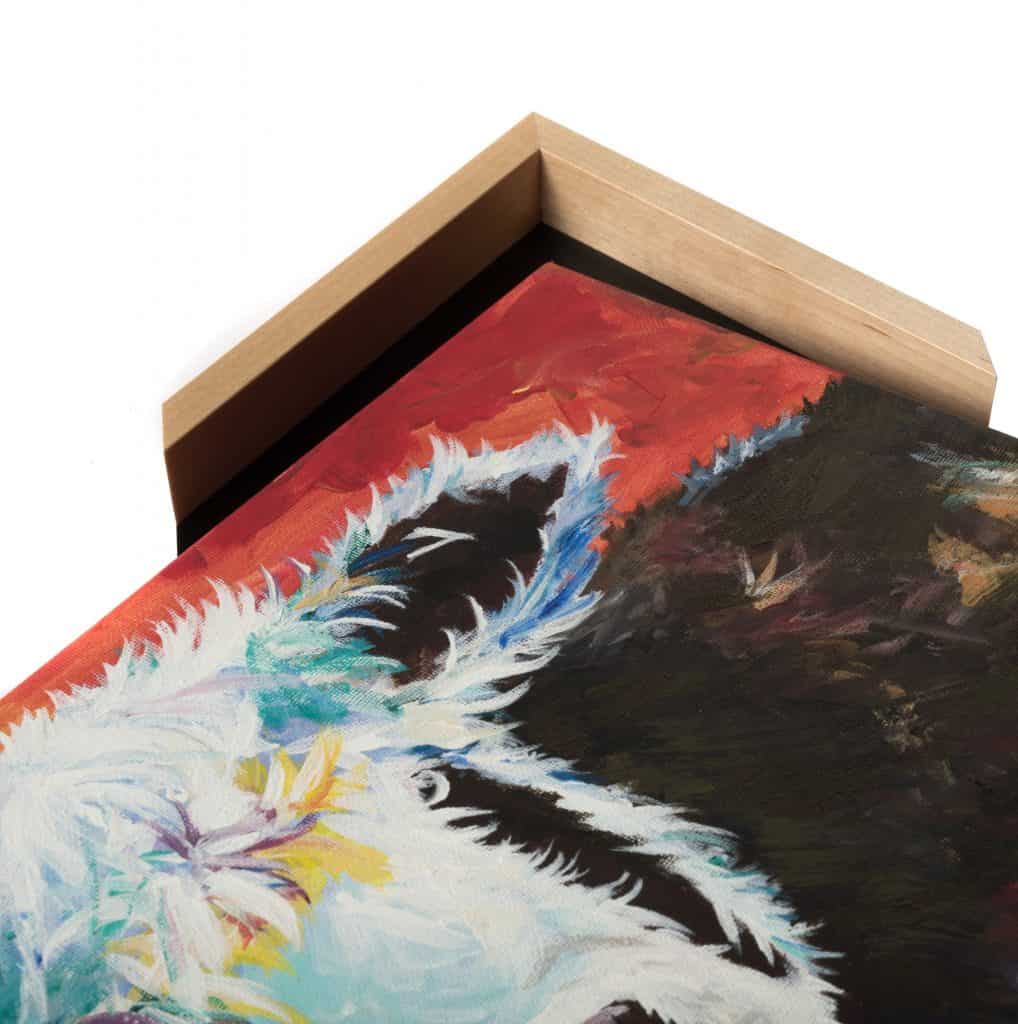 Picture Woods' L-shaped canvas float profiles are milled to precisely align at the face, stem, and shelf, with edges that are crisp and clean. Our float frames range from 1-1/8″ above the shelf, up to 2-13/16″ above the shelf to accommodate those super-deep canvases.
Walnut and Cherry woods come with a black shelf. Maple and Ash, Sanded and Clear Lacquer, come with either a black or natural poplar shelf. Painted, whitewash, or grey finishes on Maple and Ash come with a same color on the poplar shelf . 
*All shelves are of Poplar wood so tone and grain will vary from the stem's wood.
Redesigned Float Moulding
New profiles, 892 and 895, utilize a traditional dovetail shelf that slides into a grooved stem to form the same basic "L" shape of other glued together floats but with significant advantages in precision, ease of assembly, and versatility. Traditional floats are often difficult to put together with precise corners that don't need touch up after assembly. This is because the "L" shape can distort slightly from wood movement or minor inconsistencies that inevitably occur after milling. With the new design, the stem and shelf act independently, so that during the mitering process, the shelf can be pushed flat to the saw table and the stem can be clamped square to the fence to create perfect alignment. With Hoffmann joining the stem can be clamped to the Hoffmann fence and the separate set up for the shelf can be easily held flat to the table.
For questions on how to mitre these new, redesigned float frames, visit our How-To section.
We designed Picture Woods' float frame, profile #605, as a single stem design to work with a variety of stretcher bar heights.  Our recommended method of assembly is to attach the stretcher to the frame from the inside of the stretcher bar.  
The rabbet that is between the face of the moulding and the stretcher bar creates a nice "shadow line" around the canvas. 
Areas A. & B. are sanded and finished.  Area C. is finished (not sanded.)