by the frame
when individual stick lengths are specified
random length footage below the required minimum
Charges are based on united inches, rounded up to the nearest half foot. Prices include mitering on everything except fillets/spacers. A discount is given on straight cut chops. Frames are mitered with a 1/8″ allowance unless otherwise requested.
Chops are carefully selected so that the legs compliment each other in color and grain. If you prefer a specific tone or grain pattern, send us your sample or give a description of what you want when you order, and we will do our best to accommodate your request.
We also mill high quality custom frames and can modify standard mouldings. Call us for quotes.
DOVETAIL ROUTING: Hoffmann™ Dovetail routing is available for all mouldings (except fillets and spacers). Hoffmann™ is our recommended joining system, and is available for mitered chops.
NUMBER OF DOVETAIL CHANNELS – One channel (3/8"- 1" face); Two channels (1-1/4" or wider face, or over 2" ht.) 
LARGE FRAMES: Call us for availability and pricing before committing to your customer. For frames with legs exceeding an outside dimension of 90 inches, there is an additional oversize charge to offset extra difficulty in production. There is no oversize charge on profiles 801, 901, 904, and 913.
DISCOUNTS:
• Ultra Massive frames (profiles 700-999) are discounted 10% when all rails are under 30".
• Discounts may be available for 10 or more Principal Line frames, if they are the same moulding and size
Random length sticks, raw or finished
25-foot minimum per moulding
Price Breaks: 250 feet and 500 feet – mouldings may be mixed, providing per-moulding minimums are met. An additional discount may apply for orders exceeding 1,000 feet.
Custom-Milled Lengths: 100′ minimum per profile. Price breaks: 250′ and 500′ per profile (mixed woods allowed, 50′ min./wood). Call for quotes. Set up and knife charges may apply.
NOTE: Individual sticks vary in length because hardwood lumber is supplied in random length, commonly 4'-12' boards. We do our best to accommodate your specific length requirements when possible; however, we cannot always guarantee exact lengths.
If shipping FedEx or UPS, and if stick lengths exceed 7 feet, our protocol is to first cut individual sticks at a kink or knot. Give us your preferred cut schedule as an alternative guideline.
Chops are available precisely mitered and expertly assembled using the Hoffmann Dovetail™ joining system for a flat-rate joining fee. Assembled frames are carefully wrapped and shipped in custom frame boxes. Maximum frame outside dimension is listed per box size below.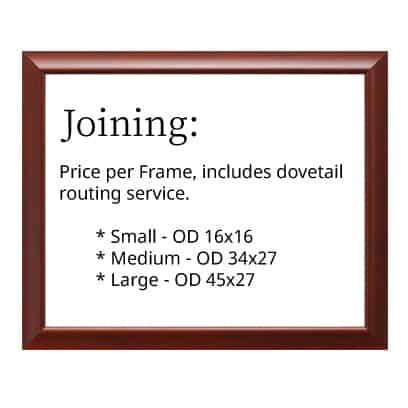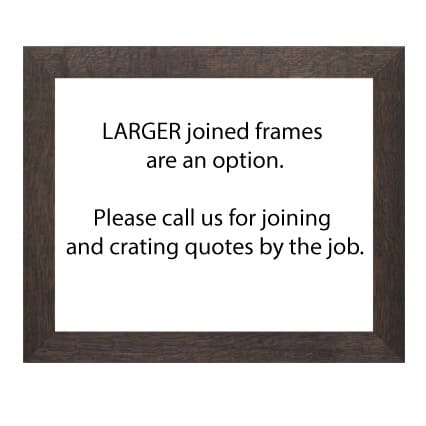 Strainers, also known as subframes, are milled from poplar, a strong and stable wood. Available as length and chop, with options for straight cut, mitered, dovetail routed, joined, and drilled for pocket screws using the Kreg® pocket hole system. Chop prices include mitering. 
Four strainer thicknesses are available: 3/8", 1/2", 5/8", 3/4". All are 1-1/2" wide.
DOVETAIL-ROUTING, STRAINER: Hoffmann™ Dovetail, Two Plugs
JOINING, STRAINER ONLY:  any size up to 45" x 27". Larger sizes available in some cases. Joined with two Hoffmann™ plugs per corner.
KREG® POCKET HOLE SCREW DRILLING: Base price per frame, plus cost per pair of screw holes. Screws included.
We recommend placing pocket screws approximately 10″ apart, with a minimum of two pocket hole screws per rail. We will automatically drill a pocket screw hole 3″ in from each end of the rail, then space each additional drilling no more than 10″ apart unless otherwise specified. We do not predrill the stem of the exterior frame.
The screw requires a #2 square head (Robertson) screwdriver. We offer this tool for purchase separately.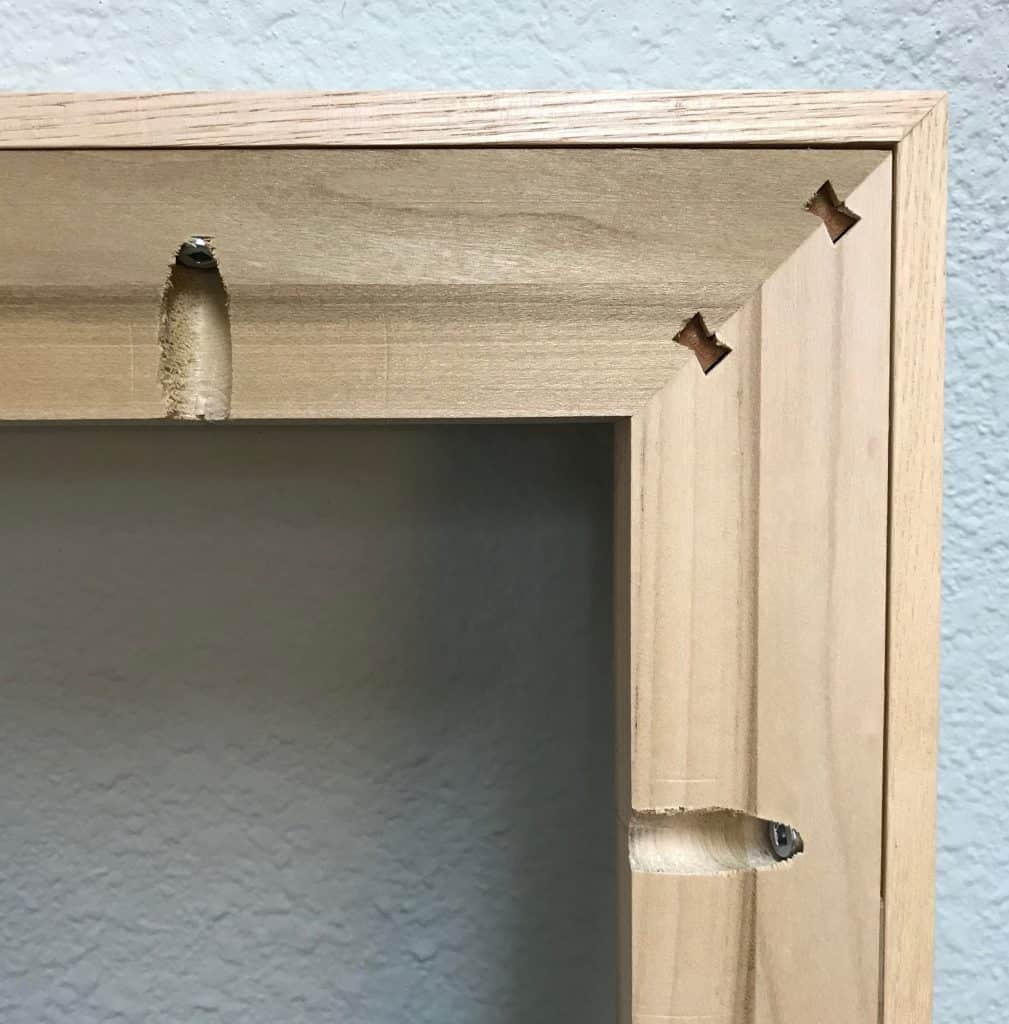 Custom Milling and Moulding Modifications
Custom milling or modifications to our standard mouldings are great options to craft the perfect moulding for your project. Any dimensionally-modified moulding will be Finish-to-Order.
MODIFICATIONS TO STANDARD MOULDINGS
Simple modifications can be done to most standard mouldings in order to better suit your needs. Examples include: cut down moulding height, enlarge a rabbet, add an additional rabbet, add a bevel or curve. Modifications are done on raw moulding, then finished to order in requested finish. Call us for a quote.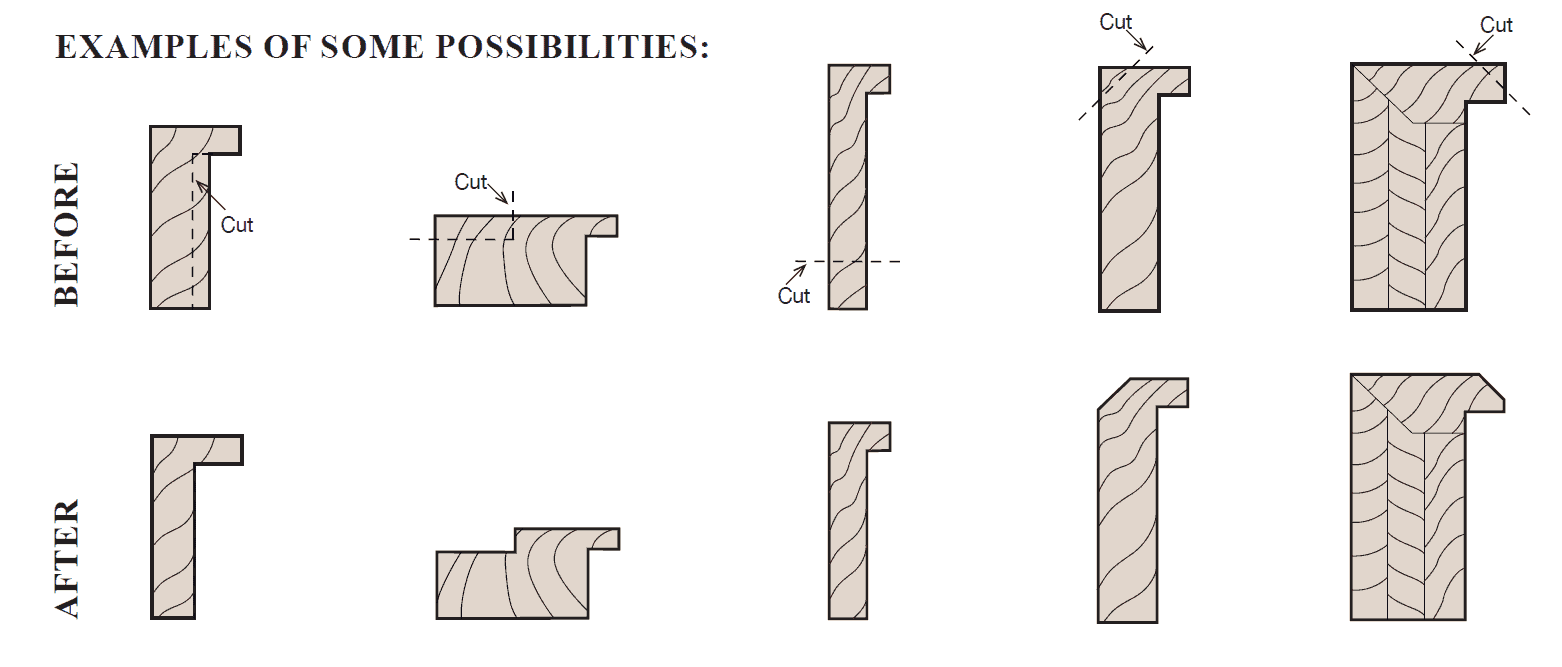 CUSTOM MILLING
We can custom mill profiles in all woods we normally stock: ash, cherry, maple, walnut, white oak, and poplar. We have the same strict quality standards for custom-milled mouldings as we do for our stocked mouldings. Many shapes can be achieved without the need to grind a unique, new knife. For shapes that require a new knife to be made, a one-time knife charge will be assessed.

OPTIONS
All custom length moulding is available unsanded, sanded only, or sanded and finished with the same finishes as our general Picture Woods' line.
ORDERING GUIDELINES
Chops or quantities ordered below 100′ are priced by the job.
Lengths are milled to order with minimum of 100′ per profile. Priced by the foot.
Length price breaks based on total quantity per profile (mixing woods allowed, 50′ per wood min.)
FINISHING RAW WOOD
There are so many different ways to finish raw wood that many people skilled in other crafts, who have never done finishing, may initially find the prospect intimidating. However, many finishes can be accomplished safely in a normal frame shop without difficult techniques, expensive equipment or specialty work areas. Picture Woods will happily share information regarding simple finishing techniques, including recommendations of wood and finish combinations. Just give us a call. Special Note: Although the milling quality of our unsanded wood is excellent, we recommend you sand moulding before applying any finish.