Strainers are milled from poplar, a strong and stable wood. Available as length and chop, with options for straight cut, mitered, dovetail-routed, joined, and drilled for pocket screws. Chop prices include mitering. 
Four strainer thicknesses are available: 3/8", 1/2", 5/8", 3/4", all are 1-1/2" wide.
DOVETAIL-ROUTING, STRAINER: Hoffmann™ Dovetail, Two Plugs
JOINING, STRAINER ONLY: any size up to 45" x 27". Joined with two Hoffmann™ plugs per corner.
POCKET HOLE SCREW DRILLING: Pre-drilled into the strainer. Screws included.
Stained Glass & Two-sided Document Frames
Simple, yet versatile options for framing deep objects. These mouldings make it possible to frame anything where a standard rabbet depth is not enough.
Most of our mouldings can accommodate spacers to create shadow boxes of varying shapes and heights.
Our 903 profile with the 696 extender create a generous 4-3/4″ rabbet height.
Virtually any profile with a 1″ face or wider can be modified to work with an extender. We routinely use profiles 313, 513, and 613 as extenders by turning them on end.
Lip Liners provide an elegant and subtle accent to any frame. They sit in the lip of the frame above the glass, making a contrasting border that pulls the eye in to the artwork.
Our tried-and-true line of fillets are designed to enhance the frame with a contracting or complementing wood and finish either inside the mat or under the moulding lip.
Hicks-style corner blocks are available to use with 313, 513, 613, 743, 801, 901, and 903 mouldings. These are ¼" thick square blocks that are 1", 1-¼", 1-½", and 2" . We make these blocks in two styles, with square or beveled edges (as pictured.) Blocks are available in all of our standard wood/finish combinations and raw. The moulding and corner blocks are sold separately. 
Uniquely crafted from solid wood to have a maple face and contracting side of either walnut or cherry. Available as sanded only or hand-finished with seven wood/finish options for the side, with a maple, clear lacquer face.
Custom Milling and Moulding Modifications
Custom milling or modifications to our standard mouldings are great options to craft the perfect moulding for your project. Any dimensionally-modified moulding will be Finish-to-Order.
MODIFICATIONS TO STANDARD MOULDINGS
Simple modifications can be done to most standard mouldings in order to better suit your needs. Examples include: cut down moulding height, enlarge a rabbet, add an additional rabbet, add a bevel or curve. Modifications are done on raw moulding, then finished-to-order in requested finish. Call us for a quote.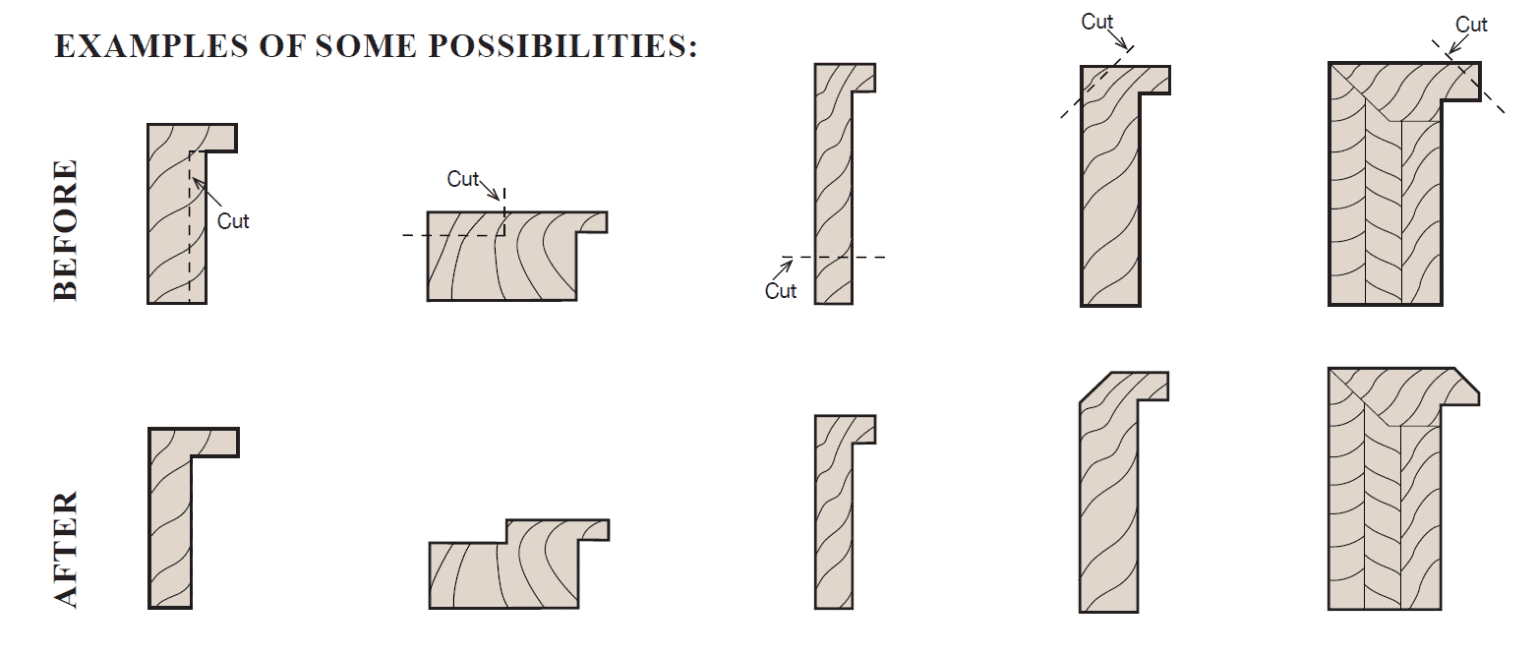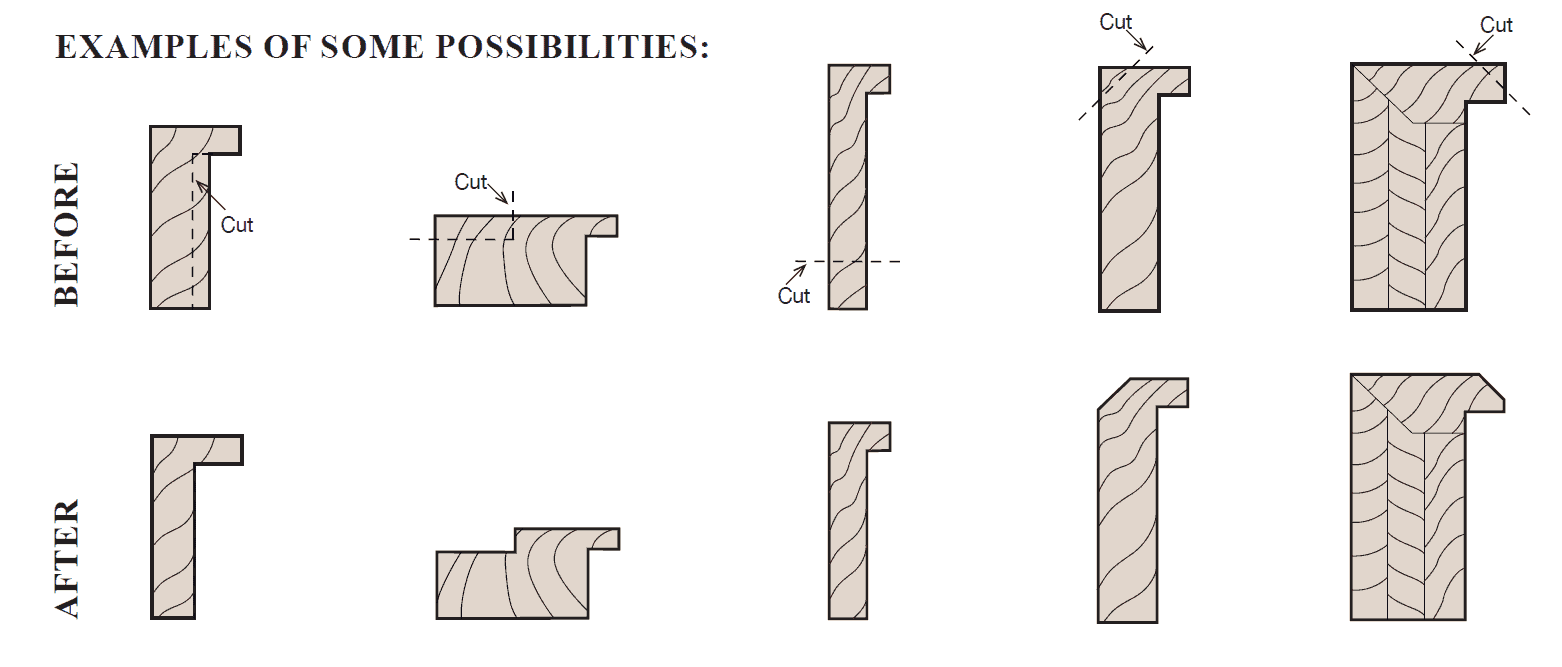 CUSTOM MILLING
We can custom mill profiles in all woods we normally stock – ash, cherry, maple, walnut, white oak, and poplar. We have the same strict quality standards for custom-milled mouldings as we do for our stocked mouldings. Many shapes can be achieved without the need to grind a unique, new knife. For shapes that require a new knife to be made, a one-time knife charge will be assessed.
OPTIONS
All custom length moulding is available unsanded, sanded only, or sanded and finished with the same finishes as our general Picture Woods' line.
ORDERING GUIDELINES
Chops or quantities ordered below 100 feet are priced by the job.
Length milled-to-order with minimum of 100 feet per profile. Priced by the foot.
Length price breaks based on total quantity per profile (mixing woods allowed, 50ft per wood min.)
CALL US
Custom and modified standard mouldings are often complex and best handled with a conversation. Please call us to discuss the details of your project and to get a quote.
The right tool makes the job easy, and you can look great while using them in a stylish and functional Picture Woods' apron.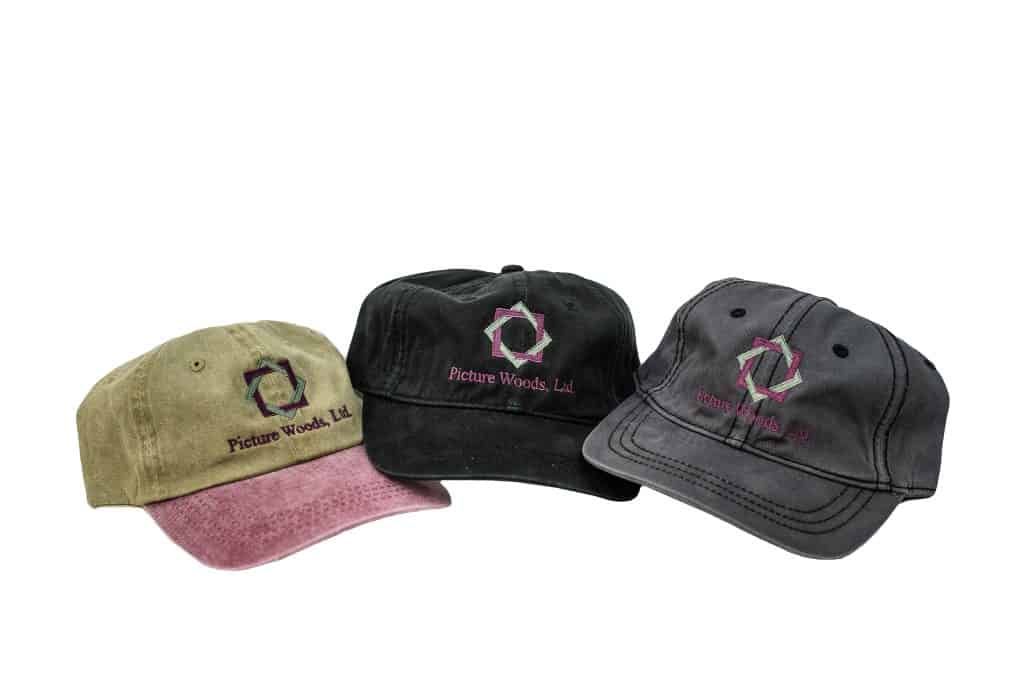 Embroidered caps.
Please ask us about current stock selection.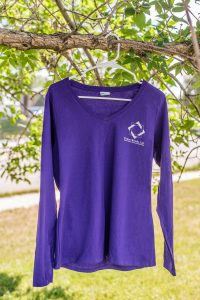 Silk Screened Tee Shirts. Please ask us about current stock selection.